By Carleen Reilly
Weather forecasters say we might have rain west of the Cascades today. It sure would help our firefighters.
Neighborhood Plan (NP) Outreach. Thanks to Louisa and Louie for volunteering to carry clipboards at the Promenade on Sunday. If you know someone isn't signed up for e-mails, direct them to Louisa and Louie for information about why they need to sign up. If you know of events we need to attend, be sure to let me know: community dinners, garage sales, river or park clean up events, public meetings, you name it.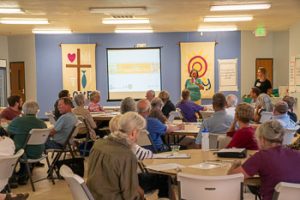 NP Working Groups. Because I am signed up for two transportation goals, you may hear more from me about how transportation policies are proceeding. You can look on the project website under "Topic Areas" to see compilations of comments from neighbors this fall that working groups are translating into policies and actions. It is mind-breaking work to encapsulate ideas into policies and develop objective, measurable actions. If this is your forte, you can still join in our work. (See the NP sign up link below to 'Get Involved.') We will hold another working group on September 27 to finalize draft goals and work on policies and actions coming out of working groups.
Transit. The September 11 Register-Guard had an article on potential projects in transit corridors in the next decade. An online survey is available for comments if you are unable to attend a corridor open house. It will be available until October 10.
The article cites the River Road Corridor as an example, but it doesn't give the details of the other corridors to get a comparison.
"For example, the analysis estimates that extending EmX service along River Road would cost $78 million to build and $2 million a year to operate, shave eight minutes off the corridor's existing transit time and displace six homes or businesses."
What this statement doesn't say is that EmX would shorten your wait time. It may only shave off 8 minutes of travel time, but it may also shave off several minutes of wait time because EmX arrives every 10 minutes. I know I have currently waited at the bus stop for 20 minutes for the next bus to come.
Neighborhood demographics. The Community Advisory Committee met last night, and a major topic was demographics of River Road and Santa Clara. We looked at age groups, minorities, housing trends, transit trends, neighborhood livability, and on and on. Demographics will shape our NP decision making, whether we are designing roads for families or seniors; cars or bikes; single-family housing or multi-family apartments.
On a related topic, in the Monday, September 10 Register Guard, they looked at Lane County in comparison with other counties and statewide. One citation was that the median household income of Lane County ranks 19th at $45,222, which is well below the statewide median of $53,270. [I did correct the R-G statement to 'statewide median.' The R-G stated that it was the 'average' household income for the state.] http://www.tfff.org/sites/default/files/OregonByTheNumbers2018.pdf This fact goes a long way toward explaining why housing is so unaffordable to our community members.
Another demographic chart caught my eye. It was posted on Mayor Lucy Vinis's Facebook page about large differences in life expectancy between various neighborhoods. I was quite surprised and pleased to see large blocks of increased life expectancy in Santa Clara. River Road didn't stack up quite so well–closer to the middle of the pack, but definitely better than some other blocks of Eugene.
"People who live northeast of the railroad tracks in the River Road area will statistically live 8 years longer than their neighbors to the southwest in the Bethel neighborhood…"
This is a very short article and an easy to understand map about life expectancy.
Calendar
SUNDAY, September 16, 2018. 3:00 – 6:00. Promenade. Rosetta Park at Benjamin & Evergreen.
TUESDAY, September 25, 5:30 – 7:30, p.m., Moving Ahead – River Road Corridor, Colin Kelly Middle School, 850 Howard Ave, Cafeteria. www.movingahead.org.
TUESDAY, September 27, 6:00 to 8:00 p.m. NP Working Groups, St. Matthew's Episcopal Church, 4110 River Road in Santa Clara. Finalize a draft of the goals for each topic area. Bring homework from small groups to continue policy and action work.
SUNDAY, September 30, 10:00 to 2:00 Plastics round up. Is anyone planning for neighborhood collection rather than hundreds of vehicles showing up to drop off 3 boxes each? Lane County Waste Management is hosting a collection event at the Glenwood Transfer station, 3100 E 17th Ave., for a SPECIFIC list of household plastics that were dropped from local recycle programs. Go to: www.lanecounty.org/plasticsroundup to learn what is ACCEPTED and how materials must be PREPARED and SORTED for collection day.
SUNDAY, October 7, Time TBA. RRCO Pancake Breakfast. Emerald Park on Lake Dr.
SUNDAY, October 7, 7:00 – 9:00 p.m. Film Showing: Under the Bridge: The Criminalization of Homelessness. River Road Annex, 1055 River Road.
WEDNESDAY, October 10, 4:00 to 6:00 p.m. Making it Happen! Open House. The Planning Division is hosting a project fair showcasing all ongoing Envision Eugene implementation projects. See how our neighborhood planning fits into the larger picture. Eugene Library, Bascom-Tykeson Room, 1st Floor.
MONDAY, October 15, 11:00 a.m. – 1:00 p.m. Film Showing: Under the Bridge: The Criminalization of Homelessness. Emerald Park, Lake Drive.
TUESDAY, October 16, 6:00 – 8:00 p.m. Community Advisory Committee. Location to be announced.
Disclaimer: The RR CRG weekly messages are my personal views and interpretation of community events and neighborhood planning efforts. I am not a Board member of RRCO (River Road Community Organization); SCRRIPT (Santa Clara-River Road Implementation Planning Team) has transitioned leadership to the Community Advisory Committee (CAC); and I have never been a City employee.
---
Carleen Reilly has lived in the neighborhood for over 40 years. She served on the RRCO board of directors from 2007-2013, and has been involved over the years with the Joint Strategy Team (JuST), the Santa Clara-River Road Outreach and Learning project (SCRROL), and the Santa Clara-River Road Implementation Planning Team (SCRRIPT)
She publishes a weekly e-newsletter called "River Road Community Resource Group Newsletter" that focuses on land use, transportation, parks and open spaces, economic development, and Community interests as they are related to our Neighborhood Planning activities in conjunction with the Santa Clara neighborhood. If you would like to subscribe you can contact Carleen at: carleenr |at| gmail dot com.