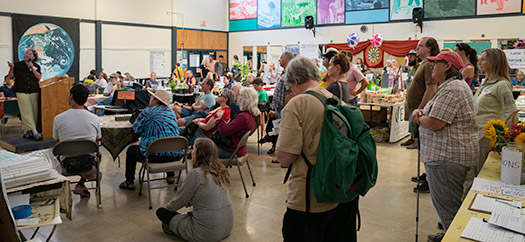 Over 300 people enjoyed the Community Resilience Festival on Aug 24th! They browsed, tabled, heard about solutions for resilience from speakers, and collaborated on ideas for community action such as a local food system network. A banner was created to represent River Road in the Eugene Parade. Thanks to all who participated and made this event such a success!
There are pictures and comments on https://www.facebook.com/River-Road-Community-Organization
If you weren't able to make it but are interested in seeing some of what happened you can watch video that has graciously been taken and made available by Todd Boyle.
Plenary Talks:
Jan Spencer – "Towards A Green and Resilient Culture and Economy"
https://youtu.be/YSaLrs7iFjs?t=325
Terry McDonald, Executive Director of St. Vincent de Paul – "St. Vinnies Builds Community Economic Resilience"
https://youtu.be/YSaLrs7iFjs?t=1032
Charlie Tilt and Kate Perle – "Local Food Systems Build Regional Resilience"
https://youtu.be/YSaLrs7iFjs?t=1622
Clare Strawn – "Creating a Regenerative and Resilient Local Economy"
https://youtu.be/YSaLrs7iFjs?t=3377
Residential Coops:
https://www.youtube.com/watch?v=F8cjoEIy9v0&t=1449s
Skeeter Duke – East Blair Housing Cooperative
Rob Bolman – Maitreya Eco Village
Tom Atlee – Walnut Street Co-op
Joanne Fox – PDX Commons, Portland