When: Saturday, August 24, 2019. 10 AM to 5 PM
Where: River Road Recreation Center, 1400 Lake Drive
Hosted by the River Road Community Organization [RRCO]
Contact – Jan Spencer janrspencer@gmail.com or Clare Strawn at clarestrawn@gmail.com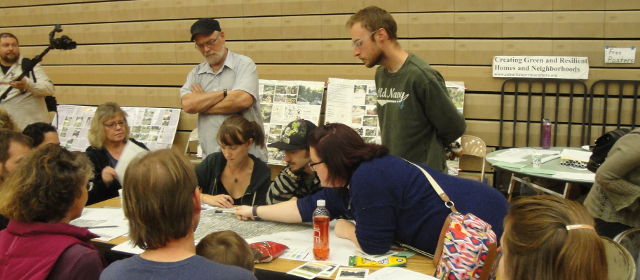 Transportation & Parking: Please ride a bike. The River Road Swim Club will provide valet bike parking, by donation, in a safe, closed in location next to the Rec Center. Look for the signs and swim club members pointing the way to bike parking.
If you drive, car pool if you can and please park at Howard Elementary School on Howard Ave. Enjoy the pleasant walk from the school parking lot, South to Emerald Park and to the Rec Center. Thanks!
Healthy Food: The Resilience Festival welcomes the Peaceful Palate, serving healthy and tasty vegan cuisine. Even better, the Palate will serve on your own dinnerware so you can avoid throwaways! And best of all, they will donate a part of their proceeds to RRCO and the Rec Center!
Schedule of Events (PDF – last updated 08/19/2019)
The Community Resilience Festival is a day long event that will be fun, educational and timely. It's all about reducing our ecological footprints and building positive community culture. The event will show and tell projects, actions, allies and assets we have in Eugene and the southern Willamette Valley for creating more green and resilient homes, lifestyles, city and region. The River Road Community Organization [RRCO] is the host of the Resilience Festival and we say thanks very much to the River Road Parks District for their hospitality making the space available. We also value our helpful pals in Santa Clara.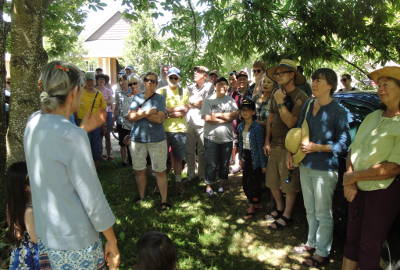 The Festival will include over 30 community organizations, 15 round table conversations, 10 classroom presentations, 5 plenary talks, 4 fishbowls, and a Kid Zone. It will be followed by 7 site tours in 5 different Eugene neighborhoods on other dates to see over 15 properties w/ green and resilient features. Scroll down to see more detail.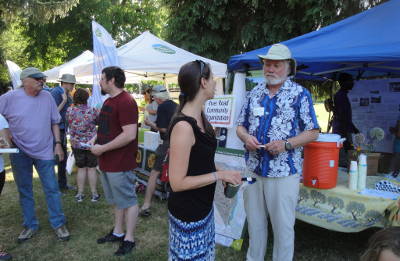 Topics of interest include cooperative economics; urban, rural and suburban land use; neighborhood associations, local food systems, cooperative living, climate change and reducing eco-footprints. The participating community organizations touch on a wide range of issues and interests and all play a part in creating green and resilient homes, neighborhoods, community and region.
The festival will be free and family friendly. All are welcome. Donations to RRCO and the Parks District appreciated!
---
Detailed Session Information
This is an overview of planned plenaries, presentations, fish bowls, round table conversations, kid zone, tabling organizations and skill shares. More content will be added. Scroll down to see what's here and please check back for updates.

Exhibits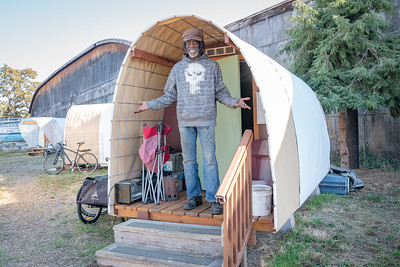 Have you ever wanted to explore one of those Conestoga Huts you've been seeing around town? Community Supported Shelters will have a hut onsite and will be giving tours during the festival!
Plenary Talks
11:00
Towards A Green and Resilient Culture and Economy
Jan Spencer- What would a culture and economy look like that planet earth could sustain for all life on earth? Very different. This plenary talk, with slides, will explain how many of the allies, assets and actions for creating green and resilient homes, neighborhoods, economy and culture already exist and many of them can be found at the Resilience Festival.
12:00
St. Vinnies Builds Community Economic Resilience
Terry McDonald -Terry McDonald, Executive Director of St. Vincent de Paul, was awarded the 2018 Recycler of the Year – Innovation Award from the Association of Oregon Recyclers. St. Vinnies has their finger in every phase of Reduce, Reuse, Recycle, and REINVEST. Terry will talk about how all their projects fit as a model of a regenerative economy enterprise that builds a resilient community.
1:00
Local Food Systems Build Regional Resilience
Charlie Tilt and Kate Perle – Charlie and Kate will explain the aspects of a local food system – why it's important, what is current with creating a local food system and how can people in the region can participate in and support a local food system. Kate is a farmer in Santa Clara and Charlie sees that Hummingbird Wholesales sources as much food it sells as local as possible.
2:00
Creating a Regenerative and Resilient Local Economy
Clare Strawn – What strategies can we create to weave a local regenerative economic ecosystem? How can we create pathways of collaboration to cultivate our local resources and invest in community solutions? Clare will describe regenerative economic initiatives from around the country that can be achieved here in Eugene.
3:30
Resilience and the River Road/Santa Clara Neighborhood Plans
Louisa de Heer – How can the River Road/Santa Clara Neighborhood Planning Project make transportation, land use, economic development, open spaces, community more green and resilient over the coming years? The Project is in its second year and presents itself as an unprecedented opportunity for creating green and resilient homes and neighborhoods.
Participating groups, organizations and businesses in alphabetical order
ADUs and Tiny Homes
Atlas Solutions
Avant Gardeners
Beyond Toxics
Citizens Climate Lobby
City Of Eugene CERT Program
City of Eugene Human Rights and Neighborhood Involvement
City of Eugene Planning and Development
Cooperation Eugene
Community Supported Shelters
Eagle Tree Herbs
East Blair Housing Co-op
Emerald Dog Obedience Club
Eugene Area Gleaners
Eugene Art 404 –
Eugene Permaculture Meetup
Friendly Toolbox Project
Grady Barrel – Pat Grady
Greenway Guardians
Grey Water Action
KEPW Radio Station
Kindness Campaign
Lane Community College – Energy and Water Conservation Programs
Lane County Master Gardeners
Maitreya Eco Village –
Neighborhood Assembly of God Church Garden Project
Neighborhood Leaders Preparedness Committee
Northwest Permaculture Convergence
Northwest Youth Corps
Oakleigh Meadows Co Housing
Peaceful Palate Food Truck
Reality Kitchen
River Road Affordable Housing
River Road Community Organization [RRCO]
River Road Swim Club
Santa Clara Community Organization [SCCO]
Solar Assist – Newt Loken
Spreading Kindness Campaign
St. Vincent de Paul
Suburban Homecraft Kevin Prier
Suburban Permaculture
Tiny Homes
Walnut Street Co-op
350 Eugene
Plenary Presenters
Louisa de Heer – Community Advisory Committee
Terry McDonald – St. Vincent de Paul
Kate Perle – Full Circle Farm
Jan Spencer – Suburban Permaculture
Clare Strawn – Cooperative Economics
Charlie Tilt – Hummingbird Wholesale
Classroom Presentations – Willamette, Community and Culture Rooms
10:15 – Jan Spencer – Permaculture Meets Urban Land Use – Willamette Room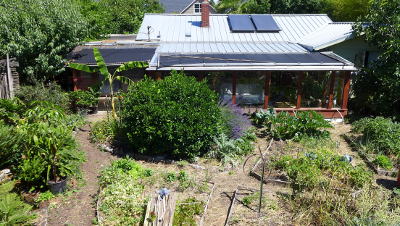 20 years transforming a suburban property – grass to garden, patio to passive solar, rain water catchment, reclaim car space, edible landscaping & more. Also, increasing the scale of transformation – block planning and retrofit eco villages with examples from Eugene, Portland, Davis. Pushing back automobiles – Barcelona, NYC, elsewhere. All previews of a more green and resilient future.
10:15 – Richie Weinman – Better Homes, Building an ADU – Community Room
What are the ins and outs of building an ADU – an Accessory Dwelling Unit? City goals are to create more residential density. What are the codes, what are the benefits to be gained by building an ADU? Richie can answer those questions and more.
11:20 – Christina Clark – Neighborhood Assembly of God Garden and Outreach Project – Community Room
Since its inception five years ago, this faith-based garden project has undergone many changes, and the vision has morphed considerably. A discussion of what we've learned, what worked, what didn't and current thoughts on where and how to proceed from here in the context of our surrounding community is what we are hoping to share, as well as offer.
11:20 – Amanda Krichbaum – Lane Service Sharing Network Time Bank – Culture Room
Join some of the members of Lane Service Sharing Network, Eugene's new Time Bank, as we explore what we have to give and what we can receive from our community, plus what gets in the way of us living in generosity with one another. Mostly exercises and sharing, very little lecture.
12:20 – Aleta Miller – Our First Relations – Culture Room
Finding Your Place Among the Plant and Medicine People The presenter, Aleta Miller, has been offering this presentation about plants and our relationship with them to local Indian Education summer programs in the Bethel School District since 2013. She is a longtime Eugene resident, certified permaculturalist, farmer and owner of a landscape maintenance company, Seven Directions. She has had the honor and privilege of being trained and guided by many local Native elders and teachers in various medicine ways. Although she does not have tribal enrollment, she has Cherokee and Choctaw heritage, as well as European ancestry.
1:20 – Heather Johnson – Eugene Alliance for Somatic Education – Culture Room
Come join us to explore—through discussion and hands-on demonstrations and activities—how permaculture concepts like observe and interact, self-regulation and feedback, pattern-to-detail design, and stacked systems can be applied to human learning to create new capacities and to maximize resilience.
2:20 – Daphne Singingtree – Herbal Preparedness – Culture Room
Discussion on growing and making herbal products to have on hand for a variety of unexpected or emergency situations. What plants grow in your yard, your neighborhood, and what you can grow easily to increase your self-reliance if there are breakdowns in accessing usual resources. Herbs for emergency situations like smoke from wildfires, trauma and stress, first aid, and disorders seen in these circumstances.
3:50 – CERT Overview and Reducing the Fuel Load – Willamette Room
Two short presentations. One about reducing the fuel load at the forest – urban interface to reduce fire risk. Ian Appow from the Wildland Urban Interface Fuels Reduction Collaborative. The second presentation will be Thomas Price to explain Community Emergency Response Team Training [CERT]. Citizens learning basic skills for emergency situations – fire, accident, search and rescue, disruptions, triage.
Fishbowls – All Fishbowls in the "Community Room"
A fishbowl can have 3, 4, 5 or even 6 members. A moderator asks questions for all the fishbowl members. They take turns answering. If time allows, fishbowl members can address each other. The audience watches but does not participate. All the fishbowls at Res Fest will have follow up conversations at the round tables.
12:20 Residential Cooperatives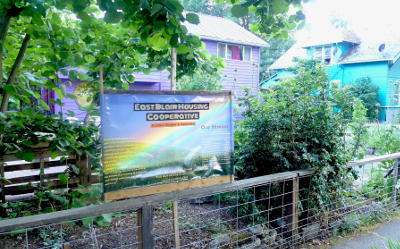 Skeeter Duke – East Blair Housing Cooperative
Rob Bolman – Maitreya Eco Village
Tom Atlee – Walnut Street Co-op
Cooperative living offers many benefits and challenges. People living much closer both personally and infrastructure. This fishbowl will provide a close look at how these co-ops manage themselves, what are the benefits, some history; what communication and management skills can we learn from coop living can apply to non coop situations for building community and reducing eco footprints?
1:20 Towards a Local Food System
Charlie Tilt – Hummingbird Wholesale
Kate Perle – Full Circle Farm
Christina Clark – Neighborhood Assembly of God
Mike Brunt – Permaculture Meetup Groups
Leigh Rieder – Master Gardeners
This fish bowl will describe what is a local food system Why is a local food system important? What is being done in the southern Will Valley to grow more food nearby, both urban and rural? The city of Eugene's Climate Action Plan calls for preparing for a very different future and to develop local food production capacity. How can the city and county help?
2:20 Climate Change
Linda Heyl – 350 Eugene
Betty Grant – Citizen's Climate Lobby
Mark Robinowitz – Peak Choice
Extinction Rebellion
Climate change is a topic heating up all over the world. Record levels of interest. This fish bowl will compare notes. What do participants think the future will be like? What makes most sense to address climate change – lifeboat or appeal to the authorities? Who is doing what? Is government – local, state, national, capable of meaningful action?
Skill Share Corner – Outside at the Pavilion with Kid Zone
Kevin Prier – Suburban Homecraft Presents 10 and 11:20
All kinds of skill for a more green and resilient home. Kevin should know, he has been teaching suburban homecrafts for over 10 years all over Eugene. Kevin will be making sauerkraut, talk about seed saving and do show and tell for soaps, balms and more.
Pat Grady – Grady Barrel Presents at 12:20
Pat installs rain water systems for the home ranging from hundreds up into the 1000s of gallons. He will describe design and capacity aspects of home rain water collection along with city and county codes.
Newt Loken – Solar Assist Presents at 1:20
If you want to find out about how solar energy can benefit you, your home and planet earth, Newt can answer a lot of your questions. Newt has been installing solar systems for over 20 years – solar hot water, photo voltaics. He also knows the ins and outs of tax breaks and government incentives to go solar.
Neil Kearns – Bike Church Presents at 2:20
Neil has a very important skill for making creative use of unlikely materials for building devices to serve every day needs and the more exotic like 10 foot tall bikes. Bike Church reaches out to the community with giving away tires and tune ups. The Church's shop is at 299 Garfield.
Round Table Conversations
Groups and individuals will host topical conversations. You can browse the topics, sit in for minutes or stay for the entire session. Learn new and useful info!
10:15
Grey Water Action – Reusing household greywater; soaps, irrigation, pitfalls, legalities
11:20
Daphne Singingtree – Following up on her herbs for emergencies classroom presentation
Mark Robinowitz – Fractal Permaculture: local, bioregional, global, urban, suburban, rural
KEPW Radio – Learn about Eugene radio station KEPW 97.3 FM
12:20
Master Gardeners – Planting, fertilizing, vegetable and landscape gardens, plant identification, more.
N'hood Assembly of God Outreach Project – Following up on the classroom presentation
1:20
East Blair Housing Co-op and Cooperative Living – Aspects of living in a housing co-op
2:20
Permaculture Meetup – Learn about permaculture, how to connect with other perma people
Local Food Systems – Continuing the local food system fish bowl conversation
Oakleigh Co Housing – Cohousing enhances community-building and resilient, healthy individuals and neighborhoods. Come hear about this River Road asset in the making.
3:50
Emerald Dog Obedience A responsible dog owner is a positive member of the community.
RR/SC N'hood Plan – Follow up to the Plenary talk about the RR/SC N'hood Plan
Climate Conversations – Follow up to climate fishbowl, may meet in a classroom
Kid Zone
Kid Zone location is the Pavilion, between the wading pool and the playground in Em Park. Park and Festival visitors, young and old, are invited to participate in painting a banner for the River Road Community Organization. The banner is designed by Lisa Yu of Eug-Art 404 – a group of artists living in the River Road and Santa Clara communities.
Younger kids will be able to paint individual flags. Flags and the big banner can be used in the Eugene Celebration parade planned for September 22, and for future events. There will also be seed cleaning and seed saving.
---
Site Tours Planned – 6 Neighborhoods!
Aug 31, Sept 7, 14, 21, 28, Oct 19
See many green and resilient features – residential, grass to garden, edible landscaping, solar design, rain water catchment, natural building, reclaim car space, lifestyle, faith, cooperative living, aspects of block planning, and more.
August 17, 11 AM, meet Rosetta Park, Benjamin and Evergreen. Circular tour
River Road, 6 properties, many green and resilient features. The tour will see grass to garden, edible landscapes, patio to passive solar, rainwater catchment, driveway to food, carport to living, accessory structures, mini eco-village, cob oven, barrel oven, front yard food forest, espalier front yard orchard, 1000 ft sq straw bale structure, gray water, cob bench, fence down between neighbors and much more.
August 31, 11 AM, meet Rosetta Park, Benjamin and Evergreen. Tour ends at the start.
River Road, 6 properties. Same sites to visit as August 17 above. Tour of East Blair follows. See immediately below.
August 31, 3 PM, meet at East Blair, 940 W 4th, Whiteaker Neighborhood, Front parking lot
Note, this tour follows the Aug 31 tour in River Road described above.
East Blair Housing Co-op, 40 residents. Both tour of East Blair and Block Planning. Community house, new property recently added, building up not out, many shared amenities, parking lot to social space and food production, garden spaces for townhomes at other locations on the co-op property, social and co-op management features of interest.
September 7, 1 PM, meet at Maitreya, 882 Almaden, Jefferson Westside Neighborhood
Maitreya Eco Village, 25 residents. Both tour of Maitreya and Block Planning. Triplex with earthen floor, straw bale structure, going up not out, driveway to garden, bio gas, water feature, fence down with neighbor, large central garden, 4000 gal water storage tower, meditation house, artistic cob structures, out door kitchen and much more.
September 14, 11 AM, meet at 2624 Harris Street, alley between Harris and Kincaid, Amazon Neighborhood. First Amazon location. Three adjoining properties with extensive gardens, swales, espalier over sidewalk, nooks and crannies. This site contains many aspects of block planning. Imagine the entire block looking like these 3 properties. Fences down, back yards in sync.
September 14, 12:30 PM, meet at 882 E. 27th Ave. , Amazon Neighborhood. Second Amazon location. Solar PV, edible landscape, rainwater catchment, heat pump water heater, triple pane windows, extreme insulation, energy efficient appliances
September 21, 11 AM, Meet 1185 W 25th, NE corner, 25th and Tyler, Friendly Neighborhood One of the most well developed permaculture properties in Eugene! Edible/medicinal landscape, over 100 species of plants, simple green house design, chickens, vermiculture, icosa hut, living roof, rain water collection, upcycling, energy efficient and solar powered home. Will highlight relationships that support resilience.
September 21, 1:00, Common Ground Garden, Van Buren and 25th. Second Friendly location. Neighbors turned an unused street right of way into a beautiful neighborhood garden. Awesome social center. Workshops, work parties, eyes on the street, cooperative, neighborhood matching grants. Visit impressive food producing property across the street.
Sept 28, 12pm (noon), Neighborhood Assembly of God Garden & Greenhouses, Santa Clara, 815 Irving Drive, total distance ¼ mile
Come and take a look at a faith-based market garden in transition towards a more grocery-centric model that is incorporating biodynamic/permaculture practices with the goal of training other suburban farmers with whom to collaborate for growing a well-rounded supply of healthy produce for our neighbors.
Oct. 19, 11 AM, Tour of Greenway Sites in River Road – River Bike Path Meet at Stults and Bike Path, Bikes Recommended, Total distance 1 mile Residents of River Road have adopted six sections of the Greenway. Each person adopting has a written agreement with the city of Eugene to perform a set list of tasks and organize a set number of work parties to improve the condition of the site. Most sites focus on removing invasive species. One site had accomplished a significant amount of planting native species. One site is a restored 65 tree filbert grove. Another site features a new information Kiosk thanks to a neighborhood matching grant.