Saturday March 4, 10 am – 12 noon
Meet on the Willamette Greenway at the end of McClure at the Filbert Grove
We expect to HAVE FUN.
Dig and remove English Ivy. BUILD COMMUNITY.
Prune Filbert Trees. EXERCISE.
Clear vegetation around Filbert Trees.
IMPROVE HABITAT FOR WILDLIFE.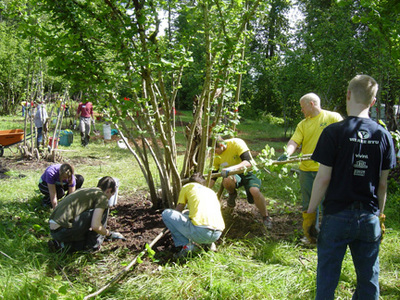 Biking is encouraged with bike parking on site.
If driving, park on Stults and walk north on bike path 200 meters.
Wear sturdy shoes, bring water to drink. Dress for the Weather.
The City of Eugene will provide gloves and tools
(feel free to bring your own as well).
River Road Community Organization Board Member, Jan Spencer, is coordinating with the City of Eugene to continue support of this Hazelnut/ Filbert Grove and the land surrounding it. For more info: janrspencer@gmail.com